How the 2019 Subaru Outback Stands out From Competing SUVs
How does the new Subaru Outback continue to shine over segment-sharing competition as a stand-out option here in Bethlehem, PA? For confirmation of this new Subaru model's dominance, we introduce comparison research that outlines the brilliance of this symmetrical all-wheel drive SUV - including SUBARU BOXER engines, Subaru EyeSight technology and much more - in proper context.
Review how the 2019 Subaru Outback compares head to head to the Toyota Highlander, Mazda CX-5, Nissan Murano and the VW Golf SportWagen before proceeding to next steps in your upcoming purchase or lease decision.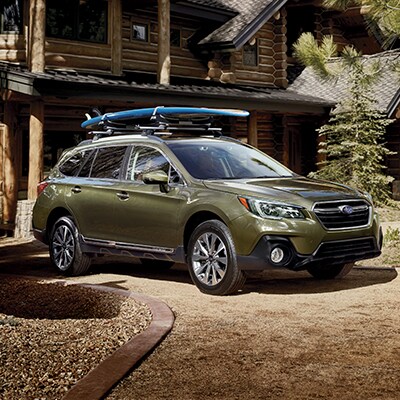 2019 Subaru Outback vs. 2019 Toyota Highlander
Standard symmetrical all-wheel drive, just available for the Highlander, elevates the control and seasonal driving capability you can expect inside the new Outback
The Outback is more efficient in every setting, boasting 25 miles per gallon city and 32 miles per gallon fuel economy estimates to 20 miles per gallon city and 24 miles per gallon highway of the Highlander
This new Subaru model tows more trailer equipment, enjoying a 2,700 pounds to 1,500 pounds standard capacity edge
With greater max cargo room with seats in place and more inches of front head room, the new Outback is more accommodating for both guests and storage
A standard roof rack for tie-down flexibility is just optional with the base Highlander
A five-star NHTSA Front Driver and Front Passenger Crash Test rating of the new Outback is preferable to the four stars of the Highlander in these respective categories
2019 Subaru Outback vs. 2019 Mazda CX-5
Configured with standard symmetrical all-wheel drive, road grip is consistent across the Outback lineup over an available all-wheel drive system for the Mazda CX-5
Greater total passenger volume opens extra front head and leg space inside the new Outback, along with more inches of shoulder space in both rows over what the Mazda CX-5 can offer
A 2,700 pounds to 2,000 pounds towing capacity edge gives you confidence transporting a trailer or boat with the new Outback over its Mazda competition
Available 256-horsepower engine production of the SUBARU BOXER engine under the Outback's hood dominates the maximum 227 horsepower engine output on the new Mazda CX-5
A standard roof rack on the Outback - great for tying down sports gear and bikes to carry - is just optional in the starting Mazda model
More efficient standard highway fuel economy estimates at 32 miles per gallon give the new Subaru Outback its well-rounded travel appeal over the competing SUV in question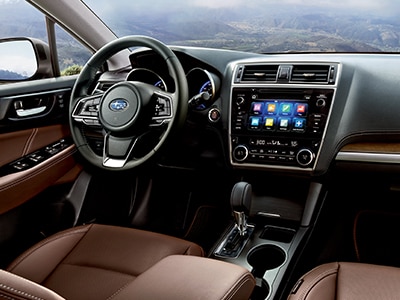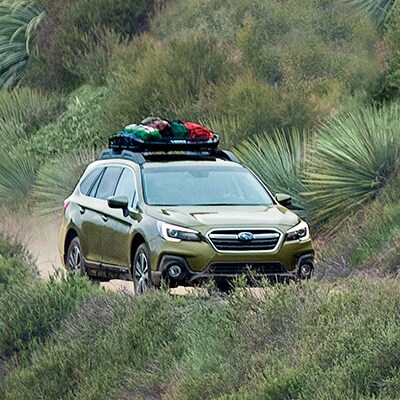 2019 Subaru Outback vs. 2019 Nissan Murano
Standard symmetrical all-wheel drive is a key distinguisher between the Subaru Outback and the Nissan Murano, with the latter model only featuring all-wheel drive as an available offering
With superior maximum torque production - 247 pound-feet to 240 pound-feet - the available SUBARU BOXER engine of the Outback showcases its performance potential against the competition
Standard 25 miles per gallon city and 32 miles per gallon highway fuel economy estimates help the new Subaru Outback stand out when compared to the Murano, which features 20 miles per gallon city and 28 miles per gallon highway estimates
More front and head leg room, along with extra cargo space when seats are in place at 35.5 cubic feet, make the new Subaru Outback a premier host and superior accommodator
A standard roof rack, not available in the starting Murano, allows you to tie down everything from bikes to sports gear up top and preserve space for guests inside the Outback cabin
2019 Subaru Outback vs. 2019 VW Golf SportWagen
The new Subaru Outback features standard symmetrical all-wheel drive, distinguishing itself from available all-wheel drive of the VW Golf SportWagen with season-independent control in every model
Greater standard 175 horsepower and a maximum production edge of 256 horsepower to 168 horsepower provide the new Subaru Outback with a potent engine output edge across comparable powertrain levels
With greater head, leg and shoulder room in both rows - besting the VW Golf SportWagen with 108.1 cubic feet to 94.3 cubic feet of total passenger volume - the new Subaru Outback takes the comfort and relaxation expectations of accompanying guests seriously
With over five cubic feet of extra cargo space when seats are in place at 35.5 cubic feet, the new Subaru Outback accommodates a few extra grocery bags and more gear as you load items in
The five-star NHTSA Front Passenger Crash Test Rating of the new Subaru Outback proves more reassuring than the four stars received by its Volkswagen competition in this category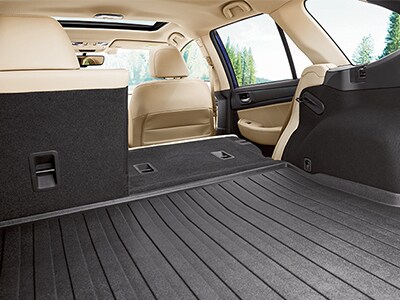 The 2019 Subaru Outback - A Proven Option and Segment Leader
With advantages in categories that cover utility, comfort, technology and performance, the new Subaru Outback stakes its claim to a superior status over these competing SUVs within the segment. Contact our team today to learn more and schedule a test drive of this new Subaru model soon to experience its beneficial qualities in action.
Schedule A Test Drive
Sorry, no items matching your request were found.
Reset Search
Hours
Monday

9:00AM - 8:00PM

Tuesday

9:00AM - 8:00PM

Wednesday

9:00AM - 8:00PM

Thursday

9:00AM - 8:00PM

Friday

9:00AM - 8:00PM

Saturday

9:00AM - 5:00PM

Sunday

Closed
Directions
Get Directions